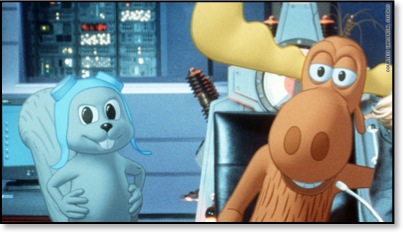 (CNN) -- Fifty years ago, Jay Ward's animated moose and squirrel duo, "Rocky & Bullwinkle," debuted on ABC, forever changing the way the world looked at animated television.

His daughter, Tiffany Ward, continues her father's legacy as executive producer of the feature films "The Adventures of Rocky & Bullwinkle, "Dudley Do-Right" and "George of the Jungle," and Cartoon Network's (sister channel to CNN) new "George of the Jungle" animated TV series.

"My dad was a true eccentric," Ward said. "His studio was a wonderland for me. It had a soda fountain, ice cream sundaes, a snow cone machine, a popcorn maker and candy bars everywhere."

More here... including attempts to gain statehood for Moosesylvania...