04/21/13 11:22
My great pleasure to receive the Hines award from Janet Perlman, introduced by a choked-up Pilar Wyman. Touched me to my very soul.

I can't tell you how much it means to me to have Janet Perlman be the person up here with me. Janet was one of the first people I met at my very first ASI conference, and I can still remember her coming up to me and saying 'Tell me about embedded indexing." That's Janet – she made me welcome and she wanted to know about exciting things. And she still does. I value our twenty-year friendship so much, as I value those same two decades plus some in ASI.

ASI has been one of the reasons I could be an indexer, professionally, full time. That's a simple statement, but the friends, the information exchange, the standards, the education, the mutual support, and the help we all give each other is invaluable. If you think about it, we are all competing for work with each other. And yet we get together, regionally and nationally, and share our techniques, our business skills, and our time with each other. That's amazing, isn't it?

Regardless of all the wonderful things Janet just listed, I truly feel that I wouldn't be here without many other people. I feel they should be up here with me, right now, as I could not have done the things I have without them. If I could divide this award up, I would be giving pieces to:


The DTTF team:

David Ream, who has been working so hard on the IPDF spec, giving presentations everywhere he can to help push indexing and ebooks further, and writing tools to help ASI's books wind up as ebooks, and being my mind-meld partner. He also forgives me when I misspell his name, which I appreciate.

Michele Combs, right by Dave's side making sure that the spec was good, and the most cheerful committee person ever. She is a true diplomat.

Glenda Browne, who navigated the depths of the spec with our American team and made sure it was internationally great as well.

Steve Ingle and his team who gave hours and hours to work with Dave to bring ASI's ebooks to market-ready stage, test tools, and has been working on the web site updates.

Mary Harper, who has kept the DTTF team sane, kept me sane in particular, kept our reports in order, can find any document we need, and always thinks about the diplomatic solutions or implications of the team's actions. She is our heart.

Ina Gravitz, who happily said about ebook testing: "I have no idea, but I am willing to learn" and has been managing the quality assurance program for ASI's ebooks effort. There was a recent article that said ebook QA was essential but too few publishers do it. Ina put us ahead of the curve!

Paul Sweum, who will forever be known as the man who knocked on Amazon's doors.

Charlee Trantino, who has been the greatest board liaison we could have had.

Sheila Ryan, who has been mastering the art of the tweet, and has been documenting how to get through an Indesign linked index with Gale Rhoades.

And Pilar Wyman… You all know she has been President this year, but over the last two years Pilar has gone way way above and beyond her official offices to be a force of nature, doing webinars, international presentations to publishers, and setting a course for where we need to go. We are a buzzword now due to her dynamite onstage presence and networking. Believe me, Pilar has been up late working on both her presidential duties, Skype conferences, resolving issues, and trying to get DTTF demos done, speeches ready, and materials prepared. She is amazing, and she has kept us going when personal troubles hit every member of the team over the last two years.
The ASI board members, who were visionaries and decided we needed to do something, to act now, about indexing in the ebook age. Frances Lennie, Richard Shrout, Pilar and now Ina have been the presidents who kept this ball rolling, and the board has been so supportive. We hope we have fulfilled your wishes, and I thank you all.
Everyone who posts on LinkedIn or calls the team's attention to important technologies and news. Yes, everyone of you! You have been our eyes and ears, since none of us can be everywhere at once or read everything there is. Thank you! You are too many to list, but I want you to know you are invaluable. Rebecca McCorkle has been gathering your news up every week, and letting everyone know.
I want to also mention the importance of teaching, in which Janet, Nancy Mulvany and Sylvia Coates have all been my mentors. It's been a joy to see students go on to become great indexers: Lucie Haskins, Teri Lefever, Kay Schlembach. I have been privileged to teach them. Every student has taught me something about our craft. It's a two way learning experience. Let's also remember Vicky Agee, who not only taught for decades, but was a major factor in making sure that anywhere she lived, there was an ASI chapter going strong. We all wish her health and strength.
And lastly, since this is going to sound like the Oscars if I go on any longer, I want you to know that my Mom and my husband Chris should be up here by my side. When I found out that I had won the Wilson award, I was at my Mom and Dad's house. When I heard that I was being put forward for the Hines, I was again at Mom and Dad's. Something about that house makes you win awards, I think. It's too bad we are selling it now, but hey, if anyone here would like to put down an offer, it is an award-winning location! And as for Chris, those of you who know him, you know why he should be here too.

Thank you, again, to the Hines committee, and I am truly honored to receive this award.

04/24/09 11:14
(Here's a copy of the speech I gave at the reception for the Wilson Award. Many thanks to everyone attending -- you all made it such a night to remember!)



I want to thank this year's Wilson Award Committee for honoring me and this book with the Wilson Award. And many thanks to H. W. Wilson for sponsoring the award. I know that the authors, Ole Kvern and David Blatner, are thrilled to see this index win as well. I want to thank PeachPit Press too, for supporting good indexing in their books. And not to make this sound like an Oscar speech, but I would like to thank my husband Chris for putting up with hard deadlines on books like these, and always cooking me dinner.

You probably would walk right past this manual, browsing in the software section here in Powell's. After all, there are probably 20 other books on the shelf next to it, all about InDesign. It looks a lot like those other books, other than its massive weight. But it's not.

What makes it different? Time, a good work process, and humor. Time defines this book in many ways. I've known David for at least 15 years, and I used to work for Ole Kvern, over twenty years ago. I have indexed all of his books save one. Ole was the person who taught me most of what I know about book layout, design, and the publication process. The same file handling techniques, process and practices we developed together in the Aldus documentation department in the late 80's served us well as we put this book together. We laughed a lot when we worked together then, and we still do.

Time, in another way, defines this book. Like all software books, this one was written under a rapidly-closing deadline. Software books like this one have a limited life span. InDesign CS4, the program, is already out, and the next edition of this book is out on the shelves as well. (Also by David and Ole, and also indexed by me. Be sure to go find it on the shelves, there may be some new jokes in it.) These trade books live and make money for a very short time, while they still match the current version of the software. It's critical to get them out as quickly as you can, as close to the software release data as possible.

For this edition, I wound up being more involved than I usually am. David and Ole were trying to document new features, and were worried about making their deadlines. Adobe had changed the appearance of much of the software's interface, which meant taking new pictures (what we call screenshots or screen captures) of every single dialog box, tool box, and palette. Ole contacted me about two months before the indexing was to begin, and asked if I would help them out by doing the screenshots they needed. Two chapters were done, but the rest needed work. Since it was Ole, I said yes, because we used to do exactly this kind of work at Aldus. How hard could it be?

A lot harder than when I was thirty-something. I needed to have both the PC version of the program and the Mac version of the program, so that we would have both platforms illustrated in the images. I needed to create intricate Photoshop files with masks or layers to import into InDesign so that a certain Import dialog box would appear, and I could capture it. I had to clean the borders and make sure the dialog box contents were appropriate for each procedure they illustrated. It may be time for tri-focals; those pixels on the screen are much smaller than they used to be when I was younger. But I managed and replaced the images for about 3/4 of the book, saving Ole and David some precious time to finish the writing they needed to get done.

Then it was time for the indexing. A good working process also defines this book and its index. As we always do, Ole and David provided PDFs with temporary page numbers, working as fast as possible. We didn't embed this index – we couldn't. This is the classic tradeoff: choosing to embed vs. working with standard indexing. Yes, it would be great to have this index embedded, but there is never any time for this series to get the embedding done. David and Ole truly need to have access to the files until the very last minute, and if I had embedded the index, I would need to be editing at the same time they needed the files to prepare for print production, do their final text ragging, fix small errors, and insert late-breaking text. So this is a standalone index. After all the books we have done together, we have a good process. We went back and forth as I noticed errors that could affect the layout, new PDFs were made and sent, and the index was handed off about a day before the book was to go to press.

I have created an index for several prior editions of this book. When I work on David and Ole's books, I use the last edition's index as a baseline, and update it in Cindex. This is not an easy task, as Adobe always shifts options around from pane to dialog box to panel, and the book's content shifts to match the product's new configuration. New features appear, others get merged together, some disappear. Names of options and features always change. But David and Ole keep the content in recognizable chunks as much as possible, and I can work through it in Page Number Order, deleting, adding, and updating, without much agony. I usually have Cindex add 1000 to the old page numbers, and then I go through and see what is still usable and what isn't, correcting the page numbers for the new edition as I go.

It is a very full and complete index. One of my goals is to make the index as complete as I can, because I have a lot of sympathy for the readers. InDesign is a page layout and design program, software that I know fairly intimately because I did book layout for many years. InDesign users will be outputting their work, in color or in black and white, to paper, to film, to web formats, to epub or ebook formats, or directly to a printing press. I have experienced the horror of sending these kinds of files to a costly high-resolution commercial printer, only to find that one wrong option was clicked on, one that ruined the output. Ole and David spend a lot of time documenting each option that can seriously affect output and printing, and it is a complex business that their readers are trying to master. I try to index every named option they document, everything that it affects, and every task or function it is related to. I don't do this level of indexing in many technical books I work on, because often these options are not documented as well, not to this level of detail. But in this manual, the critical options are heavily documented, so they are all indexed fully, by name and by task and functionality.

As I said at the beginning, time, process, and humor make this book what it is, and humor is the third reason that this book is special. David and Ole are droll and silly people, and they are in the software business. There's a long history of drollness and dry wit in the industry, as well as the practice of hiding Easter eggs in software. You know what Easter eggs are; something special that displays when you press command-option-shift-tab and put your nose on the escape key – sometimes you are shown a little video from the programmers, or an animation, or a special screen. It's a hidden treasure for you to find, and it's one way programmers have fun. In this book, there are Easter eggs everywhere – pictures of David and Ole's favorite character actors, anime styles, movies, H.P. Lovecraft references, Gilbert and Sullivan themes; there are a lot of personal hidden references throughout the book. So it is only fair that the index have its silly moments as well.

As I noted, I have done several editions of this book, all but one. One edition had to be done by another indexer, based on my index. That indexer took out all of the humor to save space, and for the first time, Ole and David got complaints about the index. Their readers wanted the humor back! So it has been restored, and has been silly every since. I know, many of these silly entries are passing mentions. They are perfect examples of what you should not be indexing. If you really want to know about werewolves, you aren't going to find out much when you visit page 636. But it is my Easter egg, as it were, to keep the index as silly as the book is.

David has said that indexing books gives him indigestion. Ole says that hiring professional indexers is the only way to stay sane. Ole often has a gloomy outlook on life, as indicated on page 352 and David doesn't want you to know about his lack of drawing abilities on page 358. Ancient typographers, elder space gods, Nigel from Spinal Tap, jerks who bump your arm, errant cosmic rays and the Seattle Mariners are all in here.

Time, process and humor are the backdrop of this book's index. And now this book has been replaced on most shelves by Real World InDesign CS4 by Olav Martin Kvern and David Blatner, also indexed by me, also published by PeachPit Press. And it continues the tradition, with entries such as:

indexers
--eternal affection towards David and Ole, 550-551
--medication and, 550
--whims of, 564

Thanks again to Ole and David for letting me indulge my whims.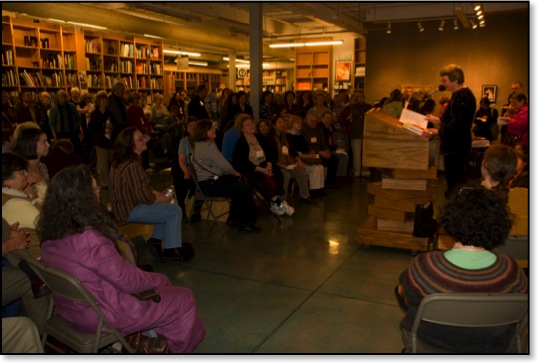 03/22/09 10:12
From: Peg Mauer
To: Index-l listserv
Subject: 2009 ASI/H.W. Wilson Excellence in Indexing Award
Date: Mar 21, 2009 5:24 PM
I am thrilled to announce that this year's recipient of the ASI/H.W.
Wilson Award in Excellence in Indexing is Jan Wright, for her index to
Real World Adobe InDesign CS3
, by Olav Martin Kvern and David Blatner.
The book was published by Peachpit Press in 2008. It is the first time
a technical manual has won the award!
Congratulations Jan!
The Wilson Award Committee was impressed by the detailed level of
granularity at which the index was written. Every conceivable utility,
button, dialog box and menu item was covered in the index. In addition
to the granularity, the coverage of the index was exhaustive. There did
not appear to be a single concept in the text that was not
appropriately covered in the index. Also, as is so important in a
technical manual's index, not only were software features indexed, but
actions were as well. That allows users to find information on how to
use features not just descriptions of them.
Index entries were appropriately double- or even triple-posted,
ensuring multiple access points to information. The index was written
in a concise, direct style, resulting in an index with a scientific
elegance. Generally short lines, along with a layout that used lots of
white space made for easy reading, even at the relatively small font
size. Finally, the authors' use of humor was consistently represented
in the index, which is not always an easy thing to carry off.
Jan will receive the Wilson Award, including a plaque and a check for
$1,000, at the ASI Welcome Reception on Thursday, April 23, 2009 at
Powell's City of Books in Portland, Oregon.
The Wilson Award also recognizes the contribution of the publisher to
the quality of the index. The publisher, Peachpit Press, also receives
a plaque.
The ASI/Wilson Award was established to recognize the normally
anonymous indexers and the publishers who provide high-quality indexes
to serve their readers. For more information on the H.W. Wilson Award,
see
http://www.asindexing.org/site/WilsonAward.shtml
. As you create
indexes this year, please consider the criteria for the award. Next
year, you could be the winner!
Thanks to all who submitted indexes this year. See you in Portland!
Peg Mauer
Chair, 2009 H.W. Wilson Award Committee
You can browse the index here at Amazon. Use the "
Look Inside This Book"
feature, and you can browse the index. I will probably be intolerable for a while, intolerable!


David's blog about the award is here.